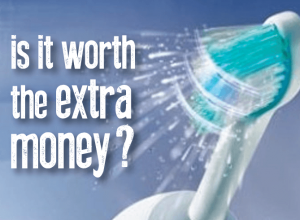 So we've had people ask what's the big deal with these electric toothbrushes? Is a Sonicare toothbrush worth the extra money especially when we're handing you a toothbrush for free? This is a valid question and one that will depend on your own personal skills. To help gauge if your skills are reeeeeeeeally up to par, see if you pass this simple proper brushing checklist.
Proper Brushing Checklist:
Do you brush for at least two minutes? That's right, two full minutes. That's 120 seconds! Most adults do not even come close to brushing that long. It's probably a lot longer than you think too! Go ahead and take out your handy-dandy smart phone and time yourself next time. Most electric toothbrushes are timed so you know just how long to keep brushing.
Do you get ALL areas of your mouth? Per my hygienist, I tend to neglect the top way back portions of my teeth. In addition to help keep the brushing motion happening for the full two minutes, most electric toothbrushes also have a built in timer that indicates when you should change the quadrant you're brushing, to ensure you're giving every tooth the attention it needs.
Do you have fun while brushing? Ok…maybe this one is more for the kids. But something you're dedicating 2 minutes 2 times a day on should at least be somewhat enjoyable. Kids Sonicare toothbrushes come with fun add on stickers, themes or some that play music to help really get them excited about their daily routine. Anything to help!
If you've answered YES to each of these, then you're probably getting by just fine without an electric toothbrush. If not, a Sonicare toothbrush could be a really great investment! You can still keep your manual toothbrush we give you for brushing at school, work or for travel purposes. Below are the electric toothbrushes we sell right in our office!