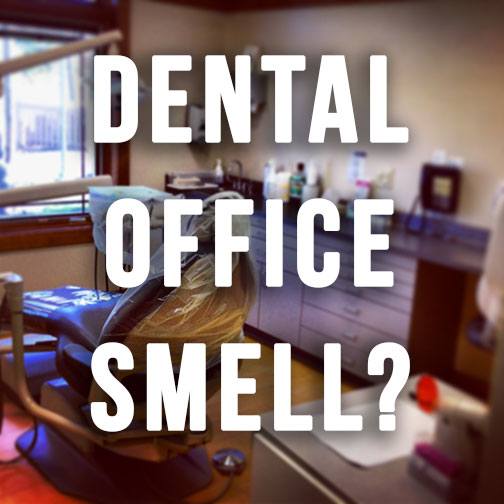 Honestly, the dental office has a smell? This is a mystery to me since I'm in one every day and smell nothing. But according to a lot of people, if we were to blindfold them and plop them in the dental chair like one of those Febreeze commercials, they would know exactly where they are. So either my nose is broken or this is NOT a myth – HOWEVER we did some digging and there are some definite reasons why the aroma is as distinct as some people say!
The Sniffer Suspects
Our Materials — We have a ton of different materials that we use and there are a few that definitely have funky smells. Acrylic, for example, is used in a wide variety of dental procedures like the construction of temporary crowns and dentures. Acrylic has a very distinct smell and when merged with the other aspects of a dental office, contributes to the overall scent. Another material we use often that has a well defined smell is eugenol. Eugenol is the main ingredient found in oil of clove which is a natural antiseptic. It helps desensitize the layer of your tooth under the enamel so you feel zero discomfort at the dentist.
Keepin it CLEAN — Keeping a clean office is very important to Szmanda Dental. We use steam sterilization which kills all bacteria and spores and an amalgam separator to safely remove and dispose of the mercury from fillings. Everything from the antibacterial soaps, disinfecting wipes, and gloves used to keep things up to the CDC and ADA standards have fairly strong odors. But we would MUCH prefer to be known for our cleanly smells, rather than having an unclean office. We survey our patients at least once a year after their dental visit and with over hundreds of responses we currently have a 99.1% approval rating when asked to rate the cleanliness of our office. That's pretty top notch!
Under the Drill — Sometimes during certain dental procedures, the drilling and materials can cause for some smells. This is what your dental assistant, in addition to many other things, is helping to keep under control — using lots of H2O and suction can help keep this "tooth dust" to a minimum.
I still stand behind that our office is "dental office smell" free, but maybe you should schedule an appointment and see for yourself.